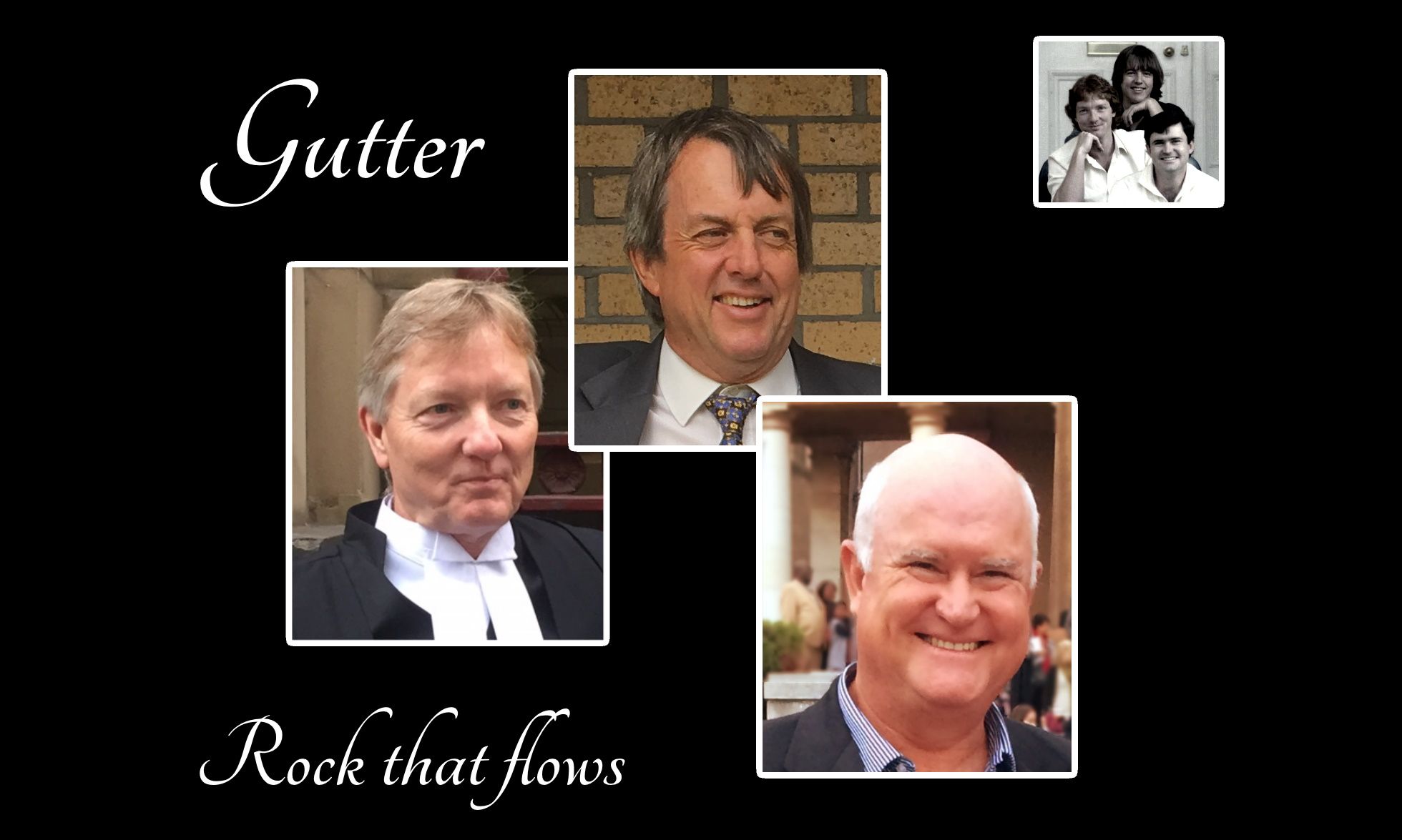 36 years between albums for chart-topping 1980's band! 
In one of the world's longest gaps between studio albums, Southern African prog-rock band Gutter will release a new compilation called Shoes and Ships and Sealing Wax this Friday - 36 years after their 1984 debut LP record. 
Gutter started as a schoolboy band in 1973, in Bulawayo, Zimbabwe and enjoyed considerable success with five top ten singles to its name including a number one hit single in Zimbabwe. The band members relocated to South Africa in the early 1980s and released a compilation of their hits - Cabbages and Kings - on 10 July 1984. 
Lead vocalist and guitarist Mark Stewart said, "Attending different South African universities while keeping the band going proved challenging, and then careers and families came along, and I eventually moved to Singapore and then Australia, so we didn't do any more recording. We remained close friends over the years though and more importantly carried on writing original music." 
He continued, "Paul Howard really got us going again some thirty years later by insisting that modern technology could make remote recording possible and then refusing to stop bugging us until we gave it a serious go. He does all the hard work on engineering and production as well as providing input on some of the instrumental arrangements. The third member of the group is Tony Huggett who was the original drummer of Gutter." 
According to Wikipedia's 'List of longest gaps between studio albums,' Gutter makes it into the top 10 with the equal eighth-longest gap of 36 years. 
Tony Huggett said, "It is amazing that Gutter has ended up being on the same "longest gap between albums" list as Chuck Berry and The Eagles! Mind you in 1981 we dislodged Michael Jackson (Air Supply) from the number one spot in the Zimbabwean hit parade which was also very cool." 
Paul explained, "When you get older you realise your mortality and I felt there were things left undone - so many songs written but never properly recorded. The problem was we were located around the world so recording together in a studio was really not feasible." 
"Fortunately, technology has progressed, the internet is fast and stable and home recording is now affordable. So, some years back I set up a small recording studio and set about convincing the other two to do the same. Typically, we put down a guide track, say guitar or piano or maybe even drums. Usually, we then put down a guide vocal track and start the process of figuring out how the song will be arranged. We each have a copy of the song to work out our individual parts until we have consensus on each part in turn." 
Mark notes, "It's an incredible international effort really - Paul Howard and Tony Huggett live and work in Cape Town, and I'm in Adelaide, Australia. We have also had Michele Hill, now in Joburg, singing a track; Rod Holborn, our original lead guitarist now in Perth Australia, adding some guitar tracks; and my brother Paul doing some inspirational piano tracks from the UK." 
Tony Huggett said, "The album cover really represents that image of recovering the book of our music from the attic, blowing the dust off it, and bringing it back into reality. This album is really the start of that process, and there's a lot more music to come!" 
Shoes and Ships and Sealing Wax will be available on the band's website www.originalgutter.com, on Spotify, Amazon Music, Apple Music from Friday 10 July 2020. Gutter is also active on social media platforms Facebook and Instagram. 
For further information please contact Paul (Pinkie) Howard (Punkbjort@gmail.com) (tel/: +27 82 787-8438), Tony Huggett (huggetts@iafrica.com)  (tel: +27 82 807-4385) or Mark Stewart (markstewart074@gmail.com) (tel: +61 438915160) 
Attachment: 
Photo of band members in 1984 and 2020